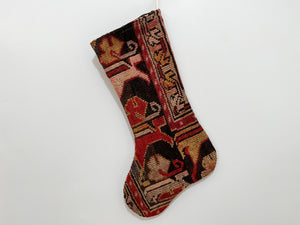 Available for preorder.  Stocking will be shipped as soon as it is available in stock.  
Christmas Stocking made from one-of-a-kind, handmade vintage Turkish rug.  Left facing. Due to natural wear and tear of any vintage rug/textile, color may be faded or spotted and the wool may be worn, which adds to the charm of this one-of-a kind piece.  
Cover of stocking constructed with 100% organic wool from vintage Turkish rug.  Back constructed with cotton or velvet.  
Size:  approximately 17" x 11" at its longest and widest parts.
We recommend professional dry cleaning only.